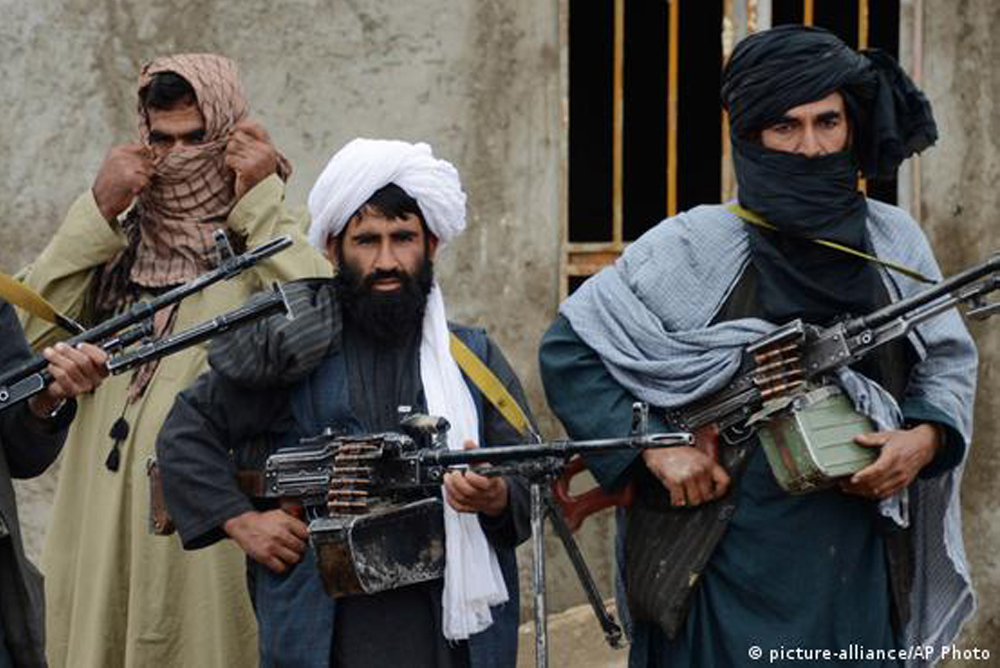 The Taliban, defined in the Pashto language as 'students' or 'seekers', are an ultra conservative religious-political movement and military organization. Currently declaring to be the legitimate government of Afghanistan, the Taliban retain de facto control over the country. The group is known for their enforcement of strict Islamic Sharia Law, and mainly consists of students from the Pashtun areas of eastern and southern Afghanistan who had been educated in traditional Islamic schools and fought during the Soviet-Afghan war.
The Taliban have long been condemned for the rigid enforcement of their viewpoint of Islamic Sharia law, which has resulted in the callous treatment of many Afghans. During their rule from 1996 to 2001, they prohibited music using instruments, recreational activities and media including paintings, photography, and movies that depicted any living thing. Men were required to grow beards and women had to wear a burqa, a long, loose garment covering the whole body from head to feet.
The Taliban prevented girls and young women from attending school, banned women from working jobs outside of healthcare (male doctors were prohibited from treating women), and required that women be accompanied by a male relative and wear the burqa at all times when in public. If women broke certain rules, they were publicly whipped or executed. Religious and ethnic minorities were heavily discriminated against during Taliban rule as well. While the Taliban controlled Afghanistan, they and their allies committed carnage against Afghan civilians, denied food supplies to 160,000 starving civilians, and burnt vast areas of land destroying tens of thousands of homes.
THE ACCELERATED ASCENT TO POWER
In mid 2021, the Taliban led a major offensive during the withdrawal of US troops from the country, which gave them control of over half of Afghanistan by July. By mid-August 2021, the Taliban controlled every major city in Afghanistan. Their sudden advance forced tens of thousands of people to flee their homes, many arriving in the Afghan capital, Kabul, others heading for neighboring countries. As of September 7, the Taliban appointed Mohammad Hasan Akhund, a close aide to the group's late founder Mullah Omar, as head of Afghanistan's new government.
The group has promised an "inclusive" government that represents Afghanistan's complex ethnic makeup – though women will not be included, as they've recently announced that women will not be allowed to work. It seems as though the new Taliban-controlled government will again infringe upon human rights. Akhund told Afghans the new leadership would ensure "lasting peace, prosperity and development", adding that "people should not try to leave the country". The Taliban's targets, however, (journalists, judges, peace activists, women in positions of power) suggest that they have not at all changed their radical ideology.
THE TALIBAN THROUGH THE EYES OF THE UNDERGROUND
"Yes, things are changing in the country, and they are telling us about their new laws. For now, they will allow the people who are in the University to finish, but they will put up a curtain to divide boys and girls, as the girls need to go with their hijab or covering their whole face. At least they get to finish. And the streets have been really different.
They have been taking the people that have stolen things and cutting their hands and feet. We have seen that in local news. They are also enforcing their law very fast; faster than I've ever seen. It feels to me like a new country. On a positive, it has been really exciting to meet other Christians here in this time.
Our hearts have been more connected because they see we have not abandoned them. I am meeting many believers that have been very afraid. There was a man that was upset because he thought we would leave, but then to see us still here, he was so happy. I have been telling him, 'We are family', for a long time and now he can see what that means and it is true. He told me how much it meant to know that I could have left, but I chose to stay with them. I am so thankful to be used by God this way. So there is pain and joy right now. God hasn't left.
There is no need to fear what the Taliban are doing. Yes, bad things may happen to us as the church, but God will do something and glorify His name. If something bad happens to me, I will remember God and how He works miracles. In the Bible, He miraculously hid people in danger, and other times He allowed them to be beaten and killed. I trust God and I am meeting many believers that have been very afraid. It is a very special time, I still cry every day and struggle to sleep, but I have so much joy. The light of God is so visible, and it is piercing Islam."
---
Help support our underground leaders and families in Afghanistan by donating. 100% of your donation will go toward getting basic supplies (food, water, shelter) to fellow believers in Afghanistan.
Download our new Afghanistan prayer guide for specific prayer points for our leaders and for the region.